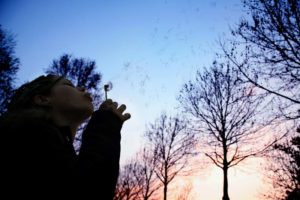 Holding my hand and a cup of hot cocoa, my daughter skipped with confidence onto a playground in a small town outside Atlanta. After a few minutes of observing, she ran off to play with some kids who were pretending to run away from bad guys. I spotted her near the swings with a little boy who had become the focus of attention of this group. They bestowed the boy with a nickname my daughter didn't like, and she stood by him, coaching him on how to respond.
"Tell them you don't like it! Tell them it isn't right!" she kept saying. When the group of kids ran off, the boy extended his hand to my daughter and asked if they could be friends. They shook on it and ran off to play. Any parent would feel deep joy at this sweet encounter. I looked around to see if the boy's parents took notice, while my daughter and her new friend sat chatting and looking through the boy's notepad filled with drawings.
After a while, my daughter's voice rang out as she came running toward me: "What is auster care, Mama?" I was jolted out of my daydreaming as I tried to comprehend her question. This is how my daughter learned about foster care, on the playground with a child whose parents could not be there. I learned that the boy was there with his siblings, including two toddlers and two special needs children. The kids live in different dormlike group homes with staffers who take shifts around the clock. Two weekends per month, a transport is arranged for the children to come to the same location so they can spend two hours together.
This is how I was awakened to the reality that is in plain sight, although many of us rarely give it much thought. In Georgia, more than 11,000 children live in foster care, with only 7 percent transitioning to adoptive families. In the United States, an average of 420,000 children are in foster care on any day. But there are not enough foster parents, and for many kids, like the boy my daughter befriended, the only option is to live in an institution that provides basic necessities but usually no real attachment or love.
Beth Horwitz, a social worker and activist whose focus is on improving the lives of at-risk youth, recently gave an impassioned ELI talk on tapping the potential of the Jewish community to meet the need for foster parents. The truth is that while the Jewish community is deeply invested in raising and educating the next generation of Jewish children, we are not yet invested in foster care. Who better to step up to the plate than a people with a history of orphans with postwar trauma starting over and building anew?
In his book "Justice in the City: An Argument From the Source of Rabbinic Judaism," Aryeh Cohen writes that to be a resident of a just community means hearing and seeing the injustice of the "stranger" as your own and sharing the burden. By interacting with people who would otherwise be invisible to us, we develop the consciousness that is necessary for action. How do we pay attention to the lives of children in the foster care system and see their predicament as part of our communal obligation? How do we remain open to the possibility of opening our homes to children whose lives are often complicated by trauma? Can we look at these kids as deserving a chance for repair?
It takes tremendous commitment and stability to provide a loving home for kids who are not biologically our own and may be reunited with their birth parents. Not every person or every family is equipped to foster children, but we can live in the experience of the question "What can I do?" Here are some ideas: Become a court-appointed special advocate volunteer to ensure that kids do not get lost in the overburdened legal and social service systems; support those who are becoming foster parents; offer mentorship, donate supplies or volunteer with organizations that support foster children, such as the Foster Care Support Foundation; and continue the conversation about becoming a foster parent and perhaps one day it will be a possibility.
As for my daughter and me, we have talked a lot about her new friend and his siblings. We cannot seem to get them out of our minds.
Author: Marita Anderson. 
Originally published on December 15, 2017 by Atlanta Jewish Times.
Foster Children Live in Plain Sight