I'm really excited to be included as an interfaith contributor at the Wild Goose Festival this July.  I will be sharing how the poetry of the Jewish Prophets in the Torah can help us deal with communal and personal traumas of today.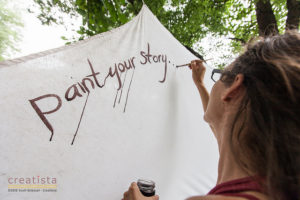 The Wild Goose is an experiential festival rooted in progressive Christian values.  Nestled between the Blue Ridge mountains of North Carolina and the French Broad River, the 3-day campout is a sensory feast of art, music, food, and storytelling.
I discovered the Wild Goose last year, as I attempted to understand how I fit into the Bible Belt as a progressive Jew, having just moved to Georgia from Los Angeles.   I wrote a piece about my experience for the Atlanta Jewish Times: "Wild Geese and Unicorns in the Mountains."
While I brought my kids with me for the interfaith learning opportunity, I walked away with a lot more than that.  We found ourselves among people who were engaged in conversations about prison reform, racial justice, transgender and LGBTQ rights, and engaged spirituality.  I was glad to be part of that conversation and the cross-pollination of ideas that ensued.  I walked away knowing the names of important Christian faith leaders in the South and received an invaluable education about the lay of the land.
If you'd like to experience the festival, you can be my guest and save 25% off weekend pass with the code BEMYGUEST. https://wildgoosefestival.org/tickets