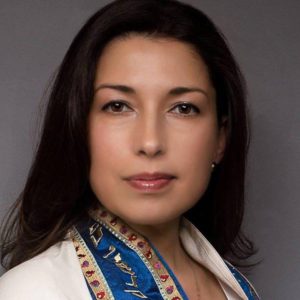 Marita Anderson is a Chaplain with a Master in Jewish Studies from the Academy for Jewish Religion, California. She served as Chaplain Intern at Children's Hospital of Los Angeles, providing spiritual care to families in the Neonatal Intensive Care Unit and the Rehabilitation Unit. Additionally, she served as Interfaith Chaplain at Cedar's Sinai Medical Center, working with patients on the Oncology and Maternity Units. She is currently a Chaplain with the Spiritual Care department at Northside Hospital in Atlanta.  She is passionate about the exploration of spiritual resilience and courage in times of crisis.
Marita also holds a Master of International Affairs from Columbia University.  In her early career, she studied Arabic and Hebrew while working as a researcher for non-profit organizations in New York City.  She was born and raised in Odessa, Ukraine and immigrated to the United States at the age of 11.
Marita lives in Atlanta, where she is working as a freelance writer, hospital chaplain, meditation teacher, and Jewish educator. She shares her life's journey with her husband, Rabbi Spike Anderson, and their three children.